According to the "Plastic Atlas" published by the Heinrich Böll Foundation and The Bund für Umwelt und Naturschutz Deutschland (BUND), Germany is one of the largest plastic waste producers in Europe and bears considerable responsibility for global plastic pollution compared to its size. Disposable products and packaging account for the very largest share.  
The official recycling rates in Germany, on the other hand, are relatively high, but these only refer to delivery to a recycling company, not to the actual output recycled. More than 60 percent of the packaging waste collected in Germany is incinerated. Only just under 38 percent of our plastic waste is actually recycled. Plastic is already considered recycled when it is exported abroad – much of the plastic waste is shipped overseas.
"The whole world is talking about plastic. That's a good thing. But we have an incomplete and distorted picture of who and what is causing the global plastic crisis and how we should address it. Bans on straws, disposable cups and bags are a first step, but they won't end one of the biggest environmental crises affecting the entire planet," says Barbara Unmüßig, executive director of the Heinrich Böll Foundation.    
A representative Forsa survey has shown that German consumers clearly see the manufacturers of plastic articles as having a responsibility: 83 percent of respondents are in favor of levies on plastic products that are borne by the manufacturers. The mass availability of cheap plastic raw materials means that hardly any recycling is taking place and a genuine circular economy is not getting off the ground in the plastics industry.  
Paper and corrugated board producers offer real alternatives here: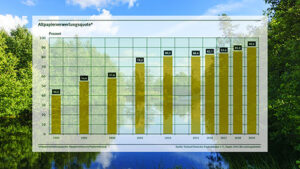 In 2014, 81.1 percent of all paper packaging was recycled (source: European Recovered Paper Council). In Germany, the recycling rate was 90 percent in 2019 (source: Verband Deutscher Papierfabriken e.V. Performance Report 2020). The life cycle of cardboard packaging, for example, shows that it forms a core element of the circular economy, because this industry recycles, it uses "waste" as a resource and new fibers from renewable, sustainably managed forests to close the loop. The paper fibers in corrugated board, for example, can be recycled at least twenty times – according to a recent study commissioned by the German Paper Mill Association. More than 50 percent of the raw material for the European paper industry comes from recycled paper (the rest from renewable wood fibers), and almost 58 million tons of paper are recycled in Europe.
More information on the circular economy and the ecological benefits of corrugated board – can be seen in the short German-language video clip from the VDW.
The topic of sustainability is a matter of the heart for Papier Sprick by tradition. As a producer of recycled paper and other products made from waste paper, we want to make an active contribution to environmental protection. Our environmentally friendly corrugated board and packaging papers are certified with the Blue Angel (Blauer Engel) Label and by FSC®  (FSC®-C151439) . They consist of 100% recycled paper from controlled sources, without the addition of virgin fibers, optical brighteners or harmful finishing agents. Our resource-saving production is carried out exclusively in Germany according to the latest technical standards – ISO 50001 certified. The consistent use of 100 percent recycled paper preserves and protects our forests and waters. 
You too can protect our planet, switch to recycled paper-ased packaging materials today and meet your customers' demands for environmentally friendly packaging. Our packaging specialists will be happy to advise you on the selection of your ideal packaging products as well as suitable shipping accessories.  
Source: Packaging-360 – Only a fraction of plastic is recycled