OUR RESPONSIBILITY: SUSTAINABILITY & FAIRNESS
CERTIFIED ECO-PROTECTION FROM PAPIER SPRICK
Sustainability is an issue dear to our heart. As a manufacturer of recycled paper and other products made of waste paper, we want to make an active contribution to environmental protection. Our eco-friendly corrugated cardboards and packaging papers are Blue Angel award winners and certified by the FSC®. They consist of 100 % recycled paper from controlled sources with no added virgin fibres, optical brighteners or refining agents which are harmful to health. Our production conserves resources and is realised exclusively in Germany to the latest technical standards – with the assurance of ISO 50001 certification. Consistent use of 100% recycled paper preserves and protects our forests and waters.
The ecolabel for environmentally friendly products with the highest standards.
The Federal Government in Germany has been honouring particularly eco-friendly products with the Blue Angel since as early as 1978. The Blue Angel is the ecolabel for the protection of human beings and the environment. It is discerning, independent and has established itself as a compass for environmentally friendly products.
Forest Stewardship Council®
(FSC®)
Preserving biodiversity in the forest
FSC® is the organisation that safeguards important environmental and social standards in the forest. With internationally valid standards, integration of all relevant stakeholders and the support of renowned companies and recognised independent environmental and social organisations, FSC® is regarded as the most credible solution for sustainable forest management. A certificate is awarded following a successful audit conducted by an independent third party that is repeated at least once a year.
Certified
energy management
For efficient energy management with ISO 50001 certification
We have worked for decades now with a closed water circuit in paper production and use only raw material from recycled sources. Cogeneration and a heat recovery ventilation system ensure a sustainable approach to our environment. Paper and machines are manufactured exclusively in Germany to the latest technical standards – with the assurance of ISO 50001 certification.
The environmental and fairness seal from Papier Sprick
"FAIR VERPACKT", the fair packaging seal, stands for observance of principles and guidelines that we have adopted as a company. These include meeting defined criteria for quality and safety, use of products and processes with low resource consumption levels and avoiding the use of substances that are harmful to the environment and our health. It goes without saying that we have the highest respect for human rights. We condemn slavery, human trafficking, child labour, discrimination and harassment. Our remuneration, benefits and working hours conform to at least statutory standards. The prohibition of corruption, respect for free competition and intellectual property and the protection of confidential information are among our principles, as are transparency, honesty and contractual fidelity and the observance of all valid laws and regulations in each and every case.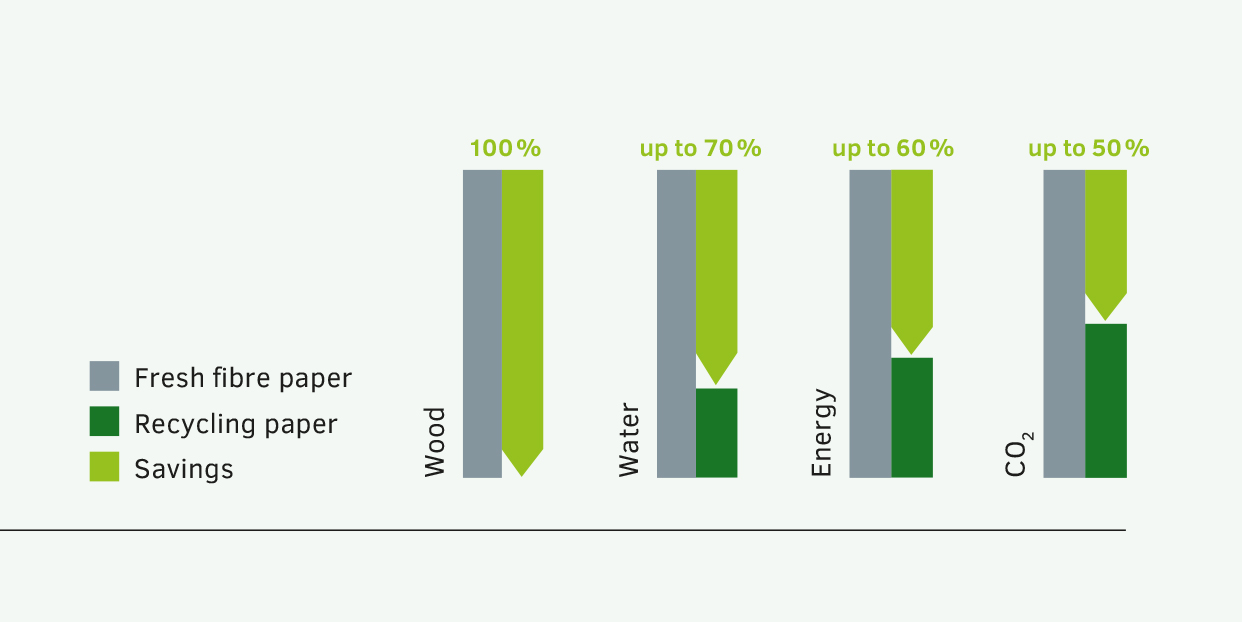 RECYCLED PAPER VS. VIRGIN FIBRE PAPER
It pays off!
This table shows you the consumption of resources necessary to produce one tonne of paper in a direct comparison between recycled and virgin fibre papers. When compared to virgin fibre paper production, our products save approximately 70% of the water, 60% of the energy and 100% of the wood required. The creation of CO2 emissions harmful to the climate is reduced by up to 50%. Consistent use of 100% recycled paper preserves and protects our forests and waters.
The tree rescuing certificate from Papier Sprick
Let us calculate for you just how many trees your company has saved by ordering our recycled paper, and draw attention to your contribution to environmental protection. You will receive an attractive certificate from us that confirms the number of trees rescued. Please contact us if you would like to learn more!