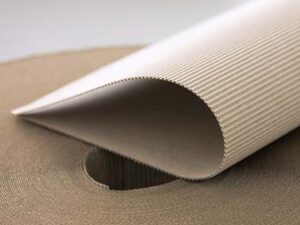 Corrugated cardboard enabled the transportation of many systemically relevant consumer goods during the Coronavirus pandemic outbreak. Product protection based on corrugated cardboard has proved to be flexible, reliable and eco-friendly. Packaging has never been so important for society.
Consumers attach great importance to reliability and confidence, particularly in the midst of a crisis. When it comes to security of supply, corrugated cardboard has demonstrated just how indispensable it is for the retail supply chain.
In addition to the significant role played here by product protection, environmental compatibility is also of major importance. In this regard, corrugated cardboard stands out from other materials, as it consists of renewable raw materials and is 100% recyclable. The recycling economy simultaneously receives a boost, and customers can achieve their sustainability goals.
Consequently, it comes as no surprise that the demand for paper-based alternatives to plastic packaging is greater than ever before. The market still offers enormous potential in this respect.
The future for plastic packaging looks bleak
The increase in demand for paper-based packaging magnifies the significant drop in demand for plastic packaging. Figures in the industry survey conducted by IPV, the paper and plastic film packaging industry association, prove that interest was already fading prior to the lockdown. Not only the pandemic has contributed to this change, as the EU Disposable Plastic Directive has also altered consumer behaviour. The demand for paper packaging instead of plastic is a trend that is growing at breakneck speed.
Sources:
Wenzel, Horst: "Nachhaltige Verpackungen sind wichtiger denn je", in: Lebensmittel Zeitung vom 06.11.2020, S. 52
IPV-Branchenumfrage: "Kunststoffverpackungen steht eine schwierige Zukunft bevor", in: Pack Report vom 06.11.2020, S. 20-21